I am so thrilled to be offering my 400 Wolfelicious followers a giveaway!
I just can't believe I am at 400. THANK YOU so much for following me!
Samantha at Ms. Smarty Pants has graciously donated an item to my giveaway. Thanks so much Ms. Smarty Pants. Go check out her fabulous blog.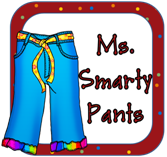 Alright, are you ready to find out what I am giving away???
2 Items of your choice from my Wolfelicious Shop
Custom Clip Chart from Ms. Smarty Pants
Good luck to everyone who enters. Thank you so much again for being a follower!!